Does looking at a picture of the sun hurt your eyes? (solo show)
10. 06. 2016 - 11. 06. 2016
Obrońców Stalingradu 17
Szczecin, Poland

In an interview, Yoshitoshi Abe, character designer of
Serial Experiments Lain
, a 1998 japanese animation series, explains that the painted shadows represent a layer of reality that underlines our own: "the Wired is in the shadow, even in the real world, it's still there beneath the surface"
I remember staying up late as a teenager, searching for unsercured webcams I could amateurishly hack into. I found this peaceful morning landscape of a beach in Japan, right after sunrise. I recall watching it for hours, remotely taking over the camera's motors, zooming in and out, panning along the shore.
Does looking at a picture of the sun hurt your eyes? In 2013 someone asked this question on
Yahoo! Answers
. In the same year NASA's Deep Impact probe lost the track of time after acomplishing its mission and is now in an endless reboot loop, drifting aimlessly in outer space. Some time after that a robot sent into the Fukushima reactor failed due to high levels of radiation. Then, Yutu, the chinese moon rover, sends a message ending in "Goodnight Earth! Goodnight Humanity!" just before freezing on its last lunar night.
In the end we're back to more familiar references, contemporary art and games. After all, the real world is just a buggy version of a video game.
---
Does looking at a picture of the sun hurt your eyes?, 2016
Color laser prints on transparent foil mounted on office neon light fixture
60 x 60 cm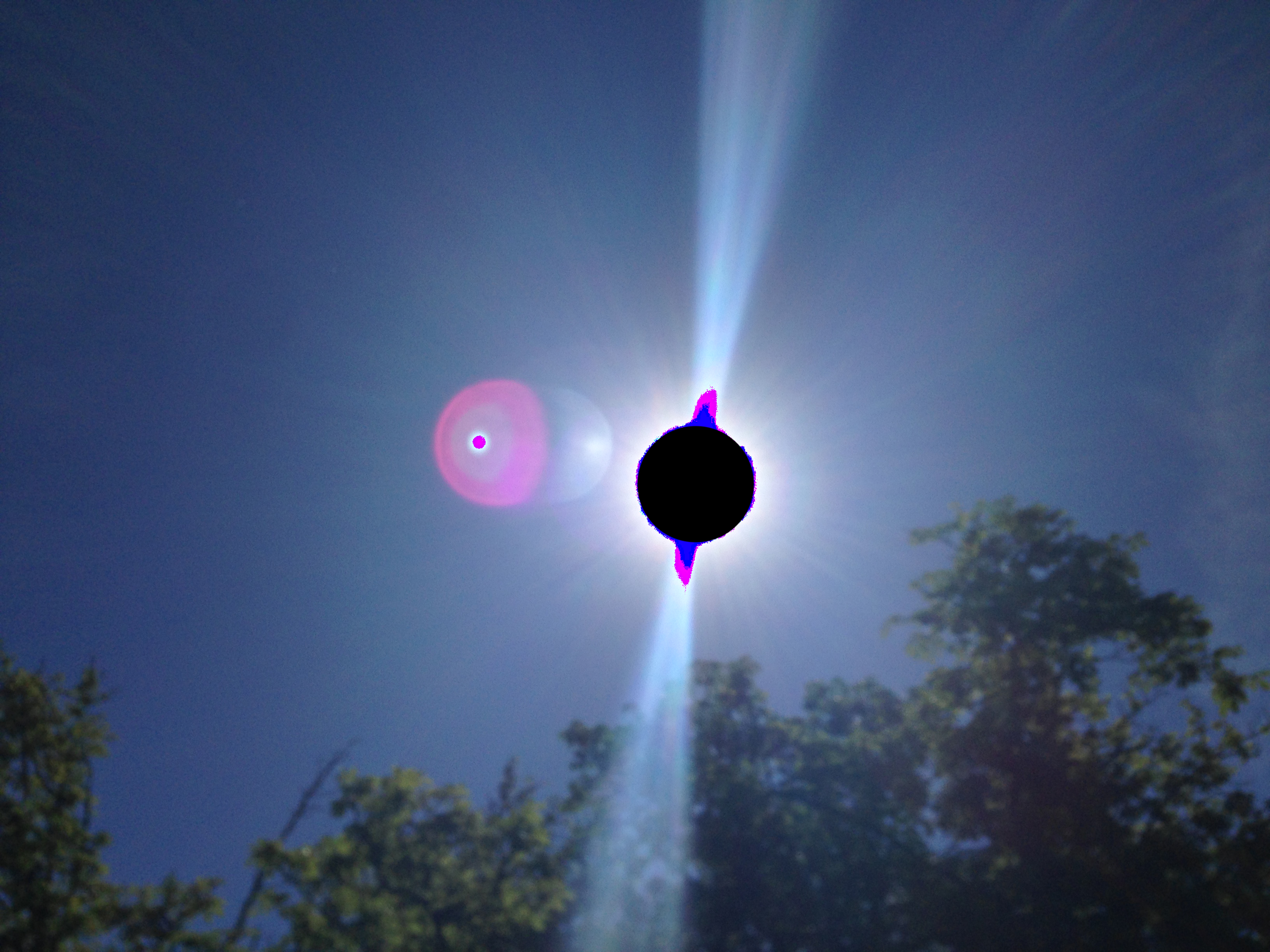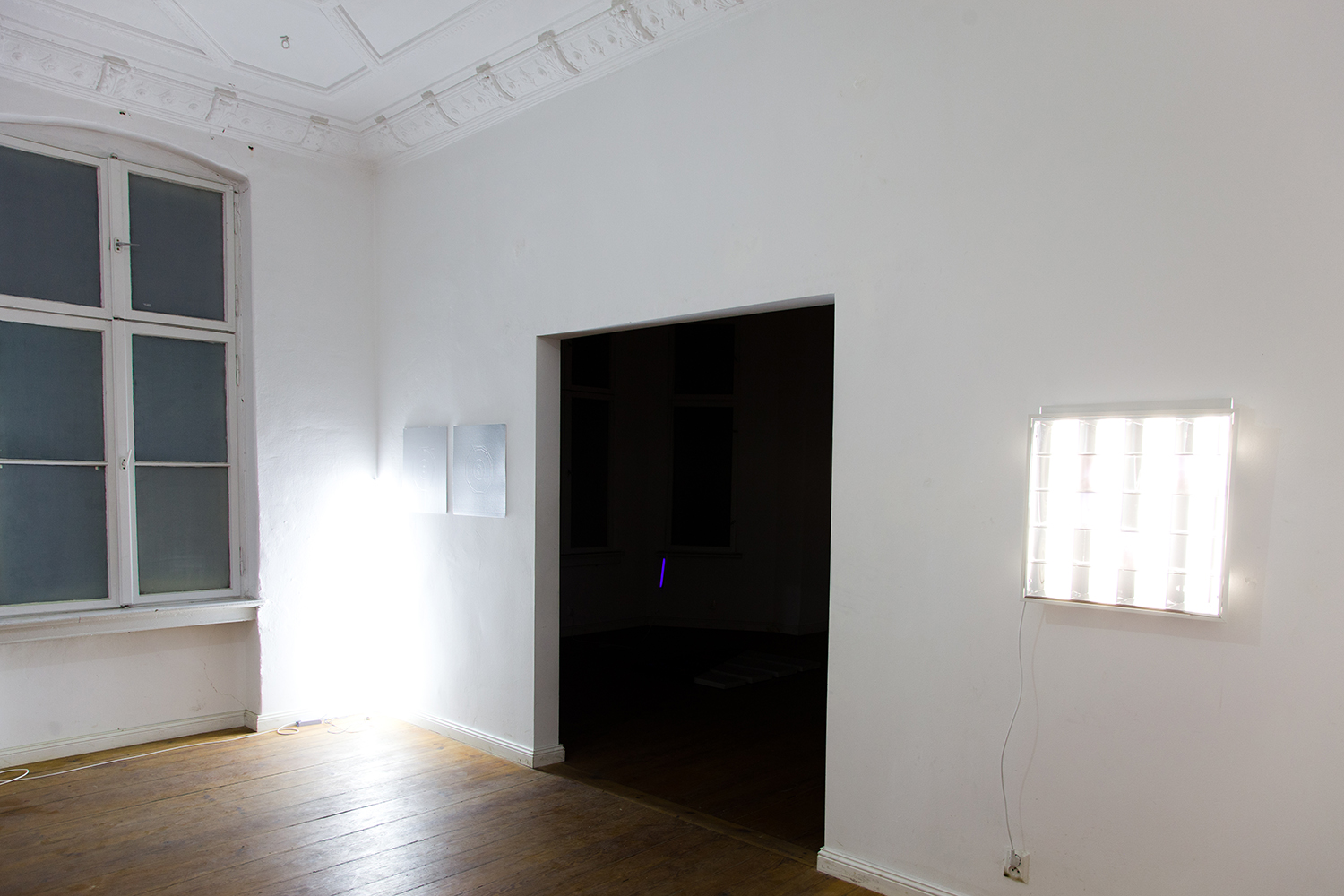 ---
Wired, 2016
Acrylic paint on concrete

In an interview, Yoshitoshi Abe, character designer of Serial Experiments Lain, a 1998 japanese animation series, explains that the painted shadows represent a layer of reality that underlines our own: "the Wired is in the shadow, even in the real world, it's still there beneath the surface". This early fictional internet represents a cyberpunk understanding of the difference between the virtual and the real, that is still very relevant today. Concrete slabs painted in the shadow of the gallery wall. A homage to Serial Experiments Lain.
---
Trajectories,
2016
Trace drawing on alumium styrofoam board
Trajectories, Robots Series (Yutu)
Trajectories, Robots Series (HAL)
Trajectories, Robots Series (Deep Impact I)
Trajectories, Robots Series (Deep Impact II)
Trajectories, Robots Series (Fukushima I)
Trajectories, Robots Series (Fukushima II)
The Trajectories Series is a series of trace drawings of the paths taken by robots that failed or malfunctioned. Through
failure these machines came to be perceived in more human terms, often a tragic antropomorphized obituary makes its way into the mainstream cultural narrative.
The trajectories are drawn from press releases and other sources that describe the last steps / paths travelled by a diverse cast of robots that died: A fukushima nuclear disaster clean-up robot, HAL 9000 from a Space Odyssey, Yutu - the chinese moon rover, and Deep Impact space probe.
The Deep Impact trajectory research is the initial basis for the ongoing project
In Orbit
---
Throwing Four Balls in the Air to Get a Square , 2016
36 C-Prints 8.5 x 15 cm each

---
Half Life 2: Foucault's Pendulum (after Alicja Kwade), 2016
video game map

---
Unsecured online webcam stream of a beach in Tokyo, Japan.
---

Door, loading screen (Skyrim),2016
Video, 9 sec loop
Loading screen animations are a practical method of loading information in the computer's memory when moving between rooms in complex video game environments. The few seconds of loading often go unnoticed when immersed in the in-game universe, but represent a fascinating limbo space that has no equivalent in the 'real' world. Opening a door and stepping through it in the game suspends time and space for a moment.